Print
A Pocket PC, abbreviated P/PC or PPC, is a specification for a handheld-sized computer (Personal digital assistant) that runs a specific version of the Windows CE operating system.
According to Microsoft, the Pocket PC is "a handheld device that enables users to store and retrieve e-mail, contacts, appointments, tasks, play multimedia files, games, exchange text messages with Windows Live Messenger (MSN Messenger), browse the Web, and more."
Any device which is to be classified as a Pocket PC must:
Run Microsoft's Windows Mobile, PocketPC edition.
* Come bundled with a specific suite of applications in ROM
Note: the name Windows Mobile includes both the Windows CE operating system and a suite of basic applications along with a specified user interface.

* Include a touchscreen.
* Include a directional pad or touchpad.
* Include a set of hardware application buttons.
* Be based on an ARM version 4 compatible CPU, Intel XScale CPU, MIPS CPU or SH3 CPU. (As of the Pocket PC 2002 specification, ARM-based CPUs are required.)
Pocket PCs are manufactured and sold by several different companies; the major manufacturers include HP (under the iPAQ and now defunct Jornada brands), Toshiba, Acer, ASUS, Dell (under the now defunct Axim brand), Fujitsu Siemens, HTC, and ViewSonic.

WHAT IS WINDOWS CE?
Windows CE (sometimes abbreviated WinCE) is a variation of Microsoft's Windows operating system for minimalistic computers and embedded systems.
So it's a plane normal windows that resembles windows OS that u r all using on ur PCs.
WHAT IS WINDOWS MOBILE?
Windows Mobile is a compact operating system combined with a suite of basic applications for mobile devices based on the Microsoft Win32 API. Devices which run Windows Mobile include Pocket PCs, Smartphones, Portable Media Centers, and on-board computers for certain Automobiles. It is designed to be somewhat similar to desktop versions of Windows.
Windows Mobile for Pocket PC carries these standard features in most of its versions:
Here is some pic. for standard windows mobile 5 'n 6 screen: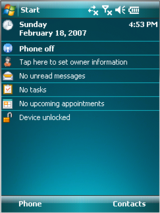 * Today Screen shows the current date, owner information, upcoming appointments, e-mail messages, and tasks. Users can customize the screen by selecting what information they wish to be displayed. It also includes the notification bar which includes icons to notify the status of Bluetooth, etc. Programs can be installed which adds extra items to the Today screen. One of these is Microsoft Money for Pocket PC. The background image can be customised directly through the Pocket PC, or themes can be created and synchronized onto the Pocket PC.
* The taskbar shows the current time, the volume, and the connectivity status. When a program or message box is open the blank space after the clock is filled with an OK or close icon. The main feature of the taskbar is the Start Button, which is designed similarly to the Start Button which features on desktop versions of Windows. The Start Menu features recently opened programs at the top, nine customizable menu entries, and links to the program, settings, find (search), and help.
* Office Mobile :a suite of Mobile versions of Microsoft Office applications is included in Windows Mobile. it includes Word Mobile, Excel Mobile and PowerPoint Mobile (included since Windows Mobile 5.0). These versions include many of the features which are used in desktop versions, but some other features like inserting tables and images have not been included in pre 5.0 versions. ActiveSync has capabilities which convert desktop versions of files to Office Mobile compatible versions.
* Outlook mobile comes with Windows Mobile. This includes tasks, calendar, contacts, and inbox that can be sync'ed either with Outlook or direct with an Exchange Server or Kerio MailServer (internet connection is required for this method). POP3 or IMAP4 access can also be used. Microsoft Outlook for desktop versions is sometimes included in a value-added CD-ROM which is included with the Pocket PC hardware manufacturer.
Windows Media Player for Windows Mobile is bundled with the Windows Mobile software. Currently, all new Windows Mobile 6 Devices include Version 10.3 (Build 15342) of the player. For Older devices, Version 10 is available for download for only specified devices — these include devices from the Dell Axim range. The player supports .WMA, .WMV, .MP3, and .AVI files. Currently MPEG files are not supported, and a third-party program must be downloaded to play these, and WAV files are played in a separate player. Some versions are also capable of playing .M4A audio.
Client for PPTP VPNs.

Print